Roofgraf Features
Everything you need, nothing you don't.
Accurate measurements
Powered by Liz, Roofgraf's A.I. Assistant
Be sure to get high-accuracy measurement of roofs in the United States with top quality aerial imaging by Nearmaps. Our patent-pending A.I. assistant, Liz is there to assist you in every aspect of the measurement process, from identifying pitch to differentiating all line types. With Liz on your side, you'll never have to worry about inaccurate roof estimates again!

Don't leave your leads waiting. Get your proposals out the door in seconds. Simply trace the lines of your next roofing project with a simple drag-and-click of your mouse, and understand the scope and cost of your project in real-time.

See exactly what materials you'll need to get the job done so you can quote wisely. All with less room for error––which means more time (and money) back in your pocket.
Roof Reports in Seconds. 
Everything you need, when you need it.
Immediately login from any device, enter the address of the job, trace the lines of the roof, confirm the pitch and BOOM – your detailed report is automatically generated. These reports can easily be presented to your customer, sent to your workers as roof plans, or delivered to a claims adjuster for insurance approvals. We've built a program that gets you the solution before anyone else.

Customize your report with ease using our color-coded line types as well as automatic waste calculation to review which option is the most effective for your bill of material. Our program is built to present you with intuitive details in order to empower you to make the best decision.

Roof Reports are created to present a streamlined plan that can be easily understood and interpreted. Your projects can be generated within a report on any device and formatted to be viewed on paper, on screen or in person. Your call.
Beautiful Proposals
with Good, Better, Best Options
Present multiple options to your client side-by-side on the same e-proposal and get them to move forward on the spot with preset smart templates and Good, Better, Best options. Customize your FastQuote and SmartQuote templates to suit your product catalogue so you can propose all you have to offer to every client you meet!

Selling additional services like siding, gutters or other? Not a problem, add them to your custom services catalog and easily add them to any proposal along with your roofing service estimate.
Once a job is created you can also view the location of each project on a handy in-app map. Plan and schedule out all your work and show this off to potential clients to build credibility!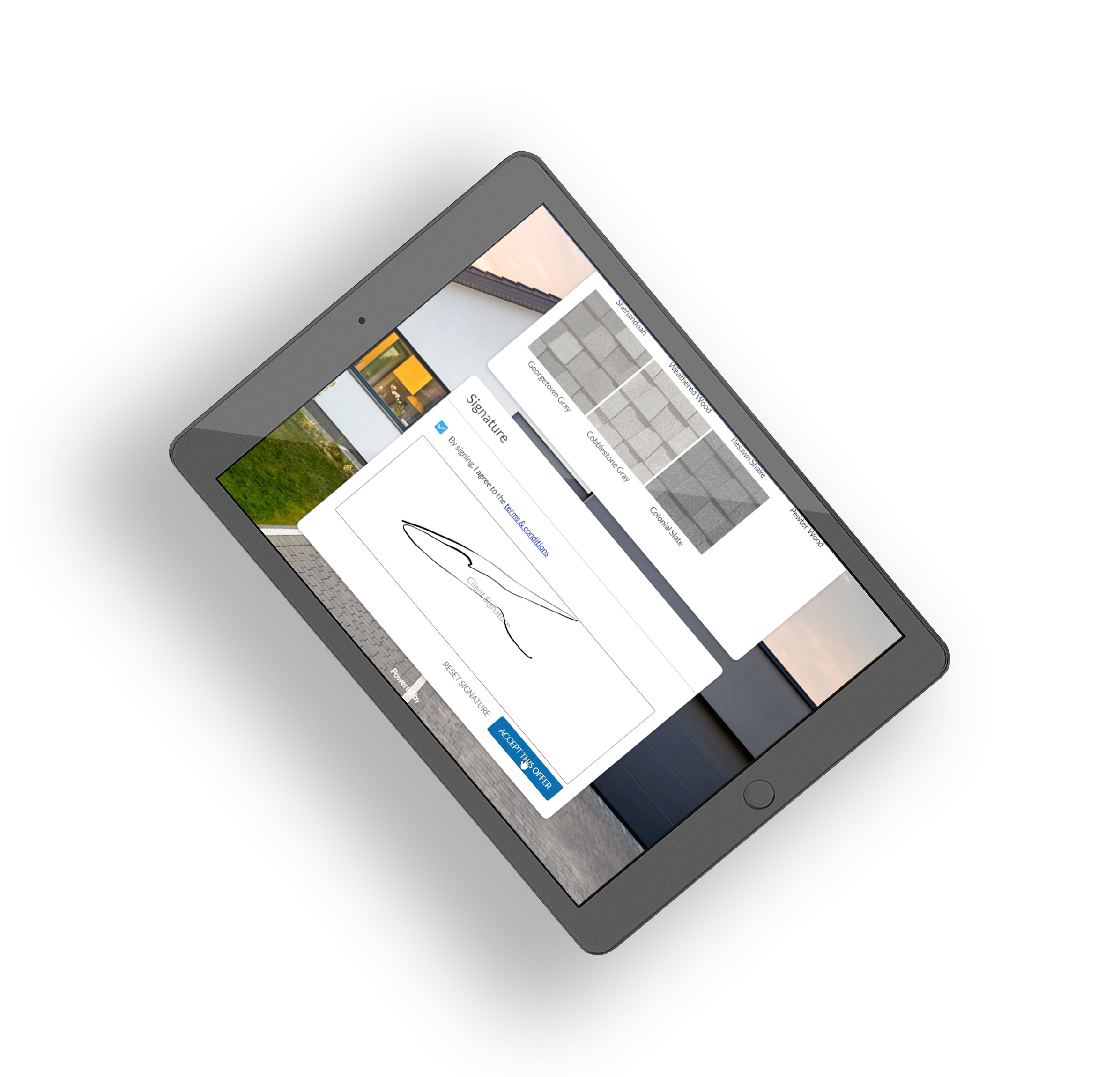 Automatic e-signatures
Never miss a sale
Forget printing out proposals and travelling to meet the client to close the deal. With Roofgraf's e-signature section, homeowners can sign directly on the virtual quote you sent them by email. 
As soon as the client receives and signs your proposal, you will receive a notification and their job status will be updated in-app to display a closed job. Decide on next steps and begin to schedule the work without ever having to leave your desk!
Roof Reports as a service
No time to measure out the roof today? No problem! With our Roof Reports as a Service feature, you can order a full roof report from our team with a one-business-day-or-less turnaround time.
Roof Reports as a Service is offered anywhere HD satellite imagery with Nearmap is available.