Earlier this year, the Roofgraf team began the process of overhauling the Templates page within our roof measurement software with the introduction of FastQuote templates. Today, that process is complete with the addition of SmartQuote templates. Here's all you need to know about these new options and how your roofing business can get the most out of them.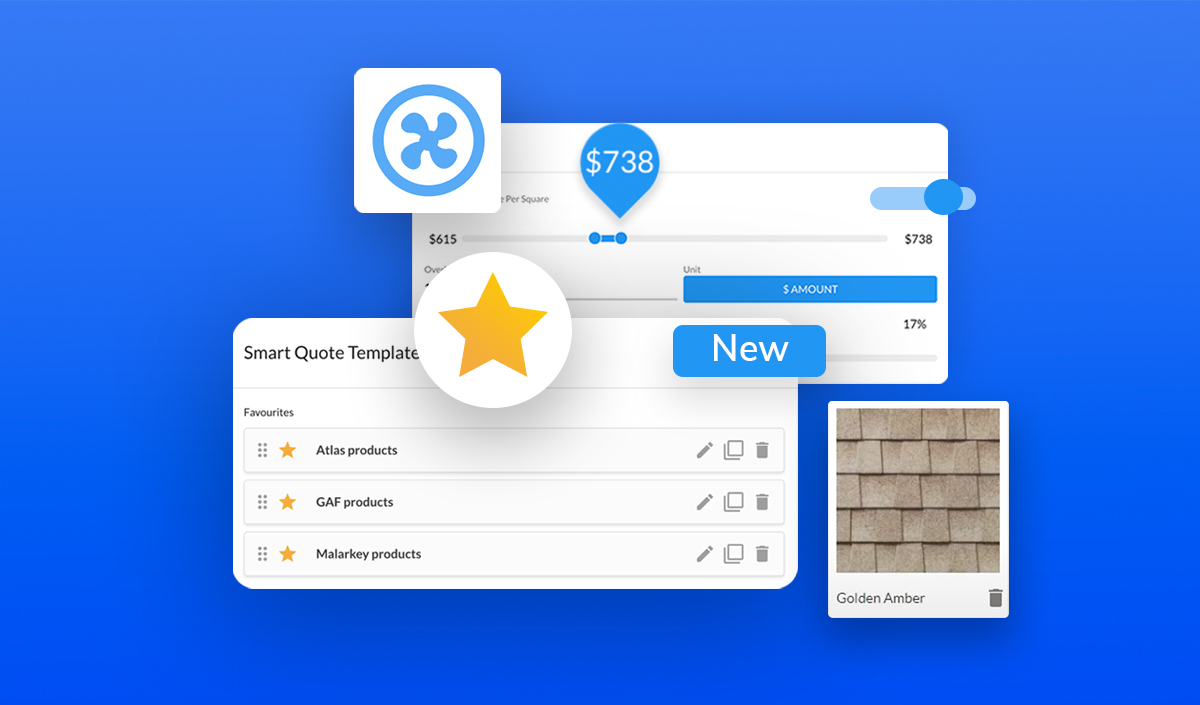 What is FastQuote?
FastQuote templates were designed to help roofers generate a quote within the roofing software from their measurements quickly and easily, with the least amount of prep and required information possible. To create a FastQuote template, all you need to input is:
The name of your new template

A per-square selling price

A shingle option 

A default Statement of Work
Using a FastQuote Template means that you are now able to create a roofing proposal for your client in less than 3 minutes. All you need is some basic measurements and a template set up in your account to get started.  
What is SmartQuote?
SmartQuote templates, on the other hand, are designed to fully automate the roof measurement and job creation process so you can have control over your pricing while maintaining full visibility on your projected costs for the project, according to the measurement data and the product lines that you offer to the potential customer. 
Since we understand that every roofer does the job differently, SmartQuotes offer you the ability to fully customize your templates and pricing to exactly match what you and your roofing business offer.  
This means that you can clearly list all of your costs for material and labor, as well as any other costs such as permitting, material delivery, administrative costs, sales commissions, warranties, etc. Each SmartQuote template includes a pricing section to model profit margin, taxes, discounts and define a selling price range. 
The process of setting up a SmartQuote template in our roof measurement software is similar to FastQuote, but you will notice that you can really drill down into your materials and pricing to create a fully dynamic and custom template for your roofing business. 
How to get the most out of FastQuote and SmartQuote templates 
In creating these new template options, we wanted to make sure that every roofer would be able to better use Roofgraf in the way that they prefer, but that doesn't mean that you should just stick to one template option! 
To get the most out of these templates, you'll want to set up multiples of each type in your account so that you're ready with different options to offer the homeowner based on their needs and preferences. 
Set up at least three FastQuote templates in your account to create a few Good, Better, Best options for the client with different shingle and pricing options to choose from. If you have more than three, you'll also be able to quickly swap them out on the quote directly in front of the homeowner to make sure to nab the sale every time. 
SmartQuote templates can also be used as Good, Better, Best options but also give you the freedom to really get down to the nitty-gritty in terms of pricing, selling range, and considering things like taxes and overhead. 
Use a FastQuote when all you have is some basic roof measurements to quote a potential client on the spot, while SmartQuotes are better for when you might have a little more time or information about the roofing job in question and really want to tailor the pricing and materials to your liking. 
In Closing
Whether you want to fully tailor a project to a specific person or need, or you just have 3 minutes in front of the client to create a job and generate a price, Roofgraf has your back with our new templates. 
With these new SmartQuote and FastQuote templates, accurate roof measurements, roof reports in seconds, and beautiful proposals with Good, Better, Best options, Roofgraf's roof measurement software has all you need to close more sales, grow your business, and save valuable time. Give it a try, risk-free today to see why it's your competitor's best-kept secret.