As any successful roofing contractor knows, doing a good job means nothing if you can't nail any jobs to begin with. While a professional website, an up-to-date social media profile, and some good old-fashioned charm can get your foot in the door, the only real way to sell your roofing services is with a winning roofing proposal.
This article will outline the best ways to create a winning roofing proposal to ensure that your company wins any roofing job that comes your way.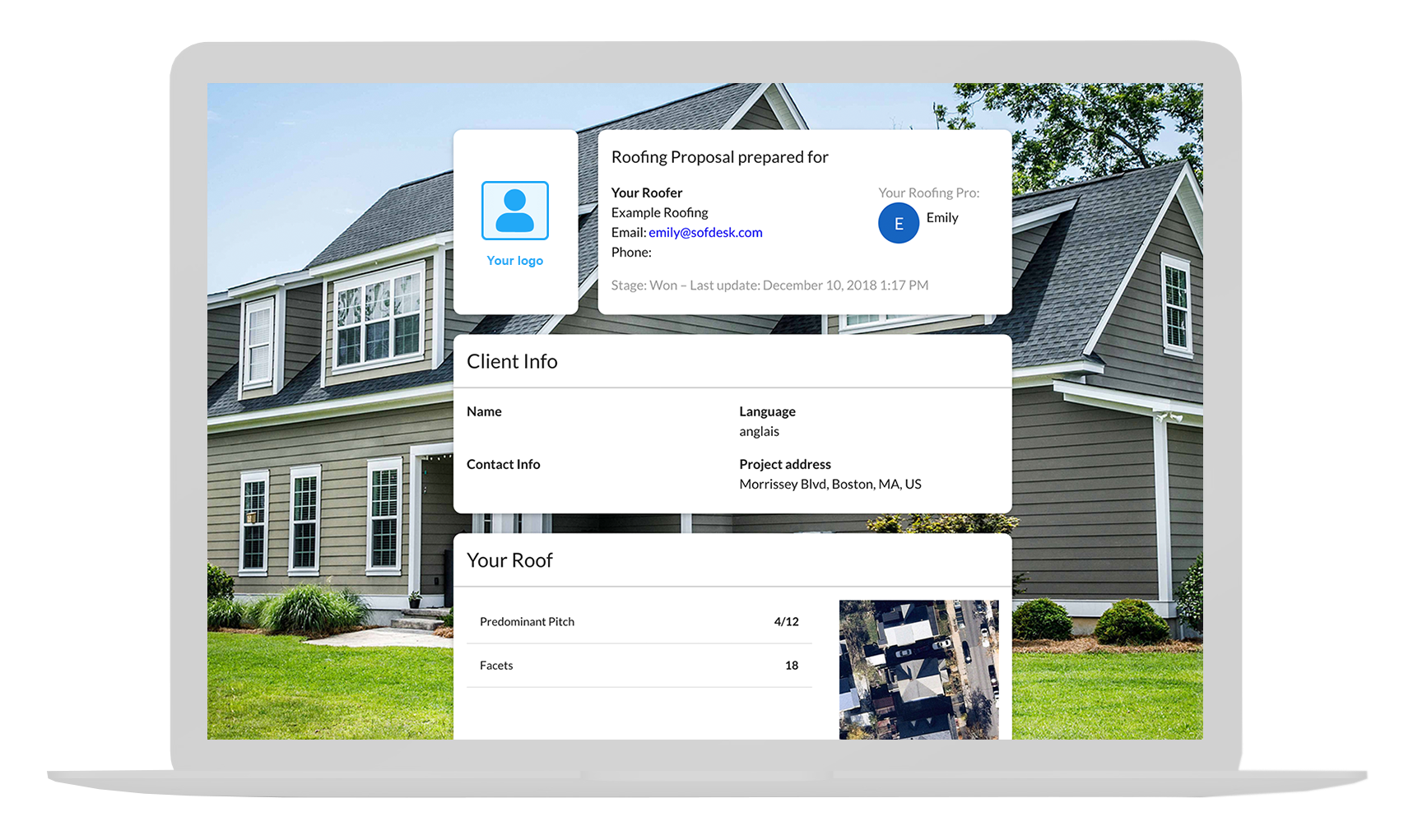 Add a personal flair
With today's technology, customization and personalization are great tools any roofer can use in their roofing estimates to stand out from the competition. Include your company's logo, and use your own images in your roofing proposal template to make sure that your estimate is easily identifiable and stands out amongst the others. 
With Roofgraf's roofing proposal software, roofers can easily upload their logo to their company account so that it's front and center on the quote, as well as select from tons of background images or even upload their own to really take control of the look and feel of the estimate. The proposal generated will come out looking clean and professional. 
Offer multiple options and make sure you can edit on the fly
The best way to win any roofing job is to set yourself up as your own competition by offering up multiple different options and roofing material/pricing structures for every roof project you quote. A homeowner is less likely to continue to shop around if your roofing business offers an option for various price points/budgets on a single proposal. If they can click through a few Good, Better, Best options, they are more likely to select one of the three, rather than seek out one of your competitors for a second opinion.  
Additionally, one of the biggest advantages of living in a digital world is that all the work you do can be easily edited, undone, and redone at the click of a button, no erasers or fresh sheets of paper needed! Working in a roofing proposal software like Roofgraf allows you to not only offer up Good, Better, Best options on each quote, but further edit and change items in real-time in front of the customer, or on the phone, based on their feedback and needs. 
Setting up FastQuote and SmartQuote templates in your account for the different scenarios that come up in your sales process will allow you to quickly swap options in and out on the fly depending on the conversation. All the homeowner needs to do is refresh the roofing proposal and, bam! A whole new set of options for them to look through shows up on their screen. 
Pro tip: having these templates set up in your account also means that you can quickly put together a roofing proposal for anyone, anywhere in a few clicks or taps so you're always ready to quote for a roof installation or repair.
Make it easy for the homeowner to understand and sign
Remember, many of your competitors are still handing over roofing proposals on paper, in spreadsheets, or just throwing the pricing breakdown into a Word document. This is your chance to stand out and come out on top as the most professional and put-together roofing company the homeowner has spoken to. 
A winning roofing proposal shouldn't just look good, but it should also be simple enough for any homeowner to be confident that they understand all they need to about the offer while also not feeling as though you're hiding anything from them. 
Include photos of the roof so that they can get a better idea of what the proposal is covering. Photos from the job site are also great for showcasing existing damage to the roof and creating a sense of urgency for the customer. 
Make sure your Statement of Work is clear and easy to understand, and your Good, Better, Best options are to the point so that the homeowner has no trouble understanding what's changing with each selection. 
Finally, an online roofing proposal should end with a digital signature section so that the homeowner can e-sign on their chosen price, right on the quote at any time. This way, they don't need to schedule any further meetings with you if they don't need to and you can get started on the job much quicker than traditional ways of doing things. 
In Conclusion
When it comes to creating a winning roofing proposal, personalization and legibility are key. With a roofing proposal software like Roofgraf, you can create custom, beautiful quotes with Good, Better, Best options and e-signature capabilities in a few clicks to ensure that you win the deal every time.
Additionally, Roofgraf provides you with everything you need to measure roofs, determine pitch and line types, generate roof reports and bills of materials, and keep an eye on all your active, won, and closed jobs on a handy dashboard and map. Give it a try, risk-free today to see why it's your competitor's best-kept secret.