As roofers, we know that not every roof is an easy job. Whether it's gathering your roof measurements, tearing down the old roof, or installing the new one, not every roofing job is going to be a quick and easy endeavor.  
While the teardown and installation process might be harder to simplify from a technical standpoint, measuring complicated roofs doesn't have to be difficult or dangerous. This is because new improvements to roof measurement software have made the process much easier than it has ever been before.  
 In this article, we'll outline what exactly makes a complex roof so complicated, why roofing software is the key to measuring difficult jobs, and how to use it successfully.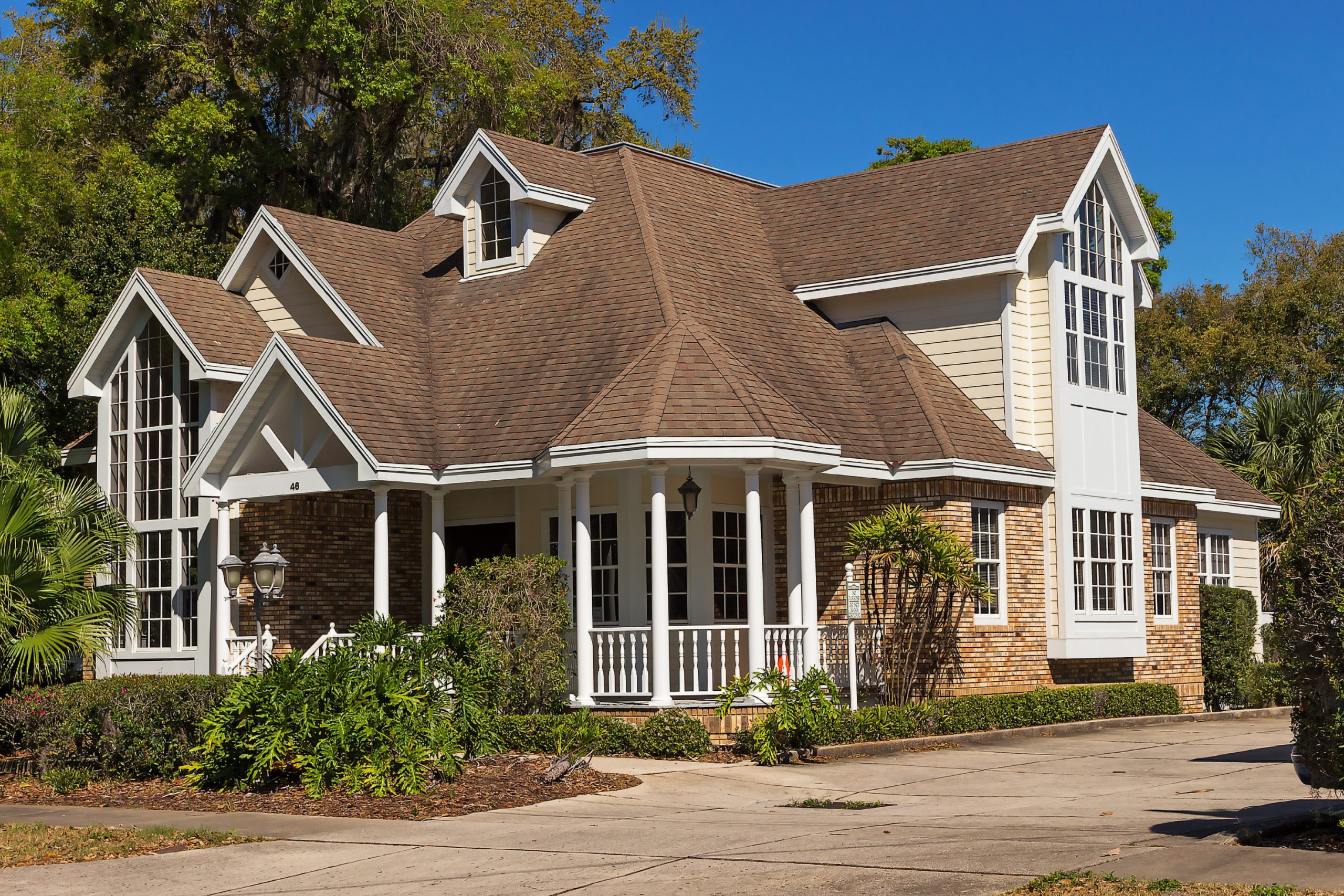 What is a Complex Roof?
A complex roof could be anything that differs from your average flat roof, mansard roof, hipped roof, or gabled roof. Often, the larger or more expensive the home is, the more complicated the roof tends to be, especially if it was designed by an architect with a great eye for the overall aesthetics of the property.  
Complex roofs tend to have tons of different roof sections and slopes, with features such as dormers and skylights, chimneys, towers, or overhangs. All of which makes getting accurate measurements both time-consuming and often dangerous for the roofing contractor tasked with the job.  
Complex roof measurements are often very involved, have many opportunities for errors, and could pose to be an overall challenge for even the most seasoned roofing contractor. On the upside, though, due to the complicated nature of the job, complex roofs can be very profitable roofing jobs and should never be passed on.  
Roof Measurement Software and Complicated Roofs
Roofing software is the key to measuring even the most complex, multi-sloped roofs without ever having to drive out to the property and climb a ladder. Not only can you get your roof report generated in minutes rather than in the time it takes to measure the roof yourself, but you don't even need to wait for a roof report order to be returned to you in your inbox as you would if you were ordering your reports from a third-party service.  
Quickly get the roof pitch, identify roof line types such as hips and valleys, and get your squares for any roof type from the comfort of your desk, saving you the headache of manually measuring out each part of the roof, and leaving you extra time in your day to spend growing your business.   
Choose from measuring off of HD aerial imagery, satellite imagery, drone photos, or blueprints to make sure that you get the best possible view of the home, and therefore the most accurate roof measurements possible.   
You can also use roof measurement software at the site to impress your clients with the speed at which you can generate an accurate roofing proposal for their property, getting them the numbers they need to make a decision much faster than your competitors.   
Tips for Measuring Complex Roofs with Roofgraf
View the roof from every angle possible
Not only does Roofgraf offers you the ability to select from a wide range of imagery of the home, but you can also open the address up in Google Maps straight from the drawing page to view the property at any angle possible, as well as toggle Street View on and off to make sure you take a mental snapshot of the roof in 3D in your mind to help with your measurements. 
Take Advantage of Roofgraf's A.I. Capabilities
Roofgraf's proprietary A.I. technology, Liz is here to help you with even the most complex roof configurations. Liz is capable of determining pitch and line types in a single click. Just draw out the internal lines in the drawing tool and let Liz do the rest of the heavy lifting for you.  
Check Your Work with a 3D Model
With the ability to generate a 3D model out of the drawing of the roof you have put together in Roofgraf, you can double-check for any mistakes or roof lines and features you may have missed by cross-referencing it against the imagery of the home you have selected for your roofing job. This ensures that your work is accurate and ready to send over to your client.  
Outsource the Measurement Job to our Team
Have an extra-complicated job to quote, a busy day on the roof ahead of you, or you would simply prefer to have someone else handle the roof measurement process? Order a roof report directly from our highly-skilled and responsive team to get your full report back in one business day or less. This service will help to shave the extra few minutes off of the job so you can spend it growing your roofing business with measurements that your roofing company can trust. 
In Conclusion
Measuring complex roofs doesn't have to be as difficult as it has been in the past. With the use of a good roof measurement software like Roofgraf, you can get your measurements done for any roof in a matter of minutes, shaving hours off of your workday which is time you can easily reallocate to making more sales and growing your roofing business. 
Have a complicated roof in your sales pipeline today? Start your free trial of Roofgraf to learn more about all our other features such as SmartQuote and FastQuote templates, proposals with Good, Better, Best options, automatic e-signature capabilities, and let our software show you how quick and easy the job can actually be.